Solved – Glock 21 Gen 4 Problems: Comprehensive Breakdowns
By all accounts, Glock 21 Gen 4 is a great choice for lots of shooting tasks thanks to its excellent accuracy, light recoil and high capacity magazine. That is why various shooters want to add the Glock pistol to their gun collections. That being said, like every other weapon, Glock 21 receives a couple of complaints from customers.  So besides subjective reviews, what should people know regarding Glock 21 Gen 4 problems before getting it? In addition, is it possible for ordinary firearm enthusiasts to tackle such problems by themselves? 
Intend to purchase a Glock 21 Gen 4 but want to see if it contains any flaw? If that happens to be the case, this article would be of use to you. Down below, you would be introduced to practically everything that gun owners must keep in mind about Glock 21 Gen 4 problems. 
Brief Overviews Of Generation 4 Glock 21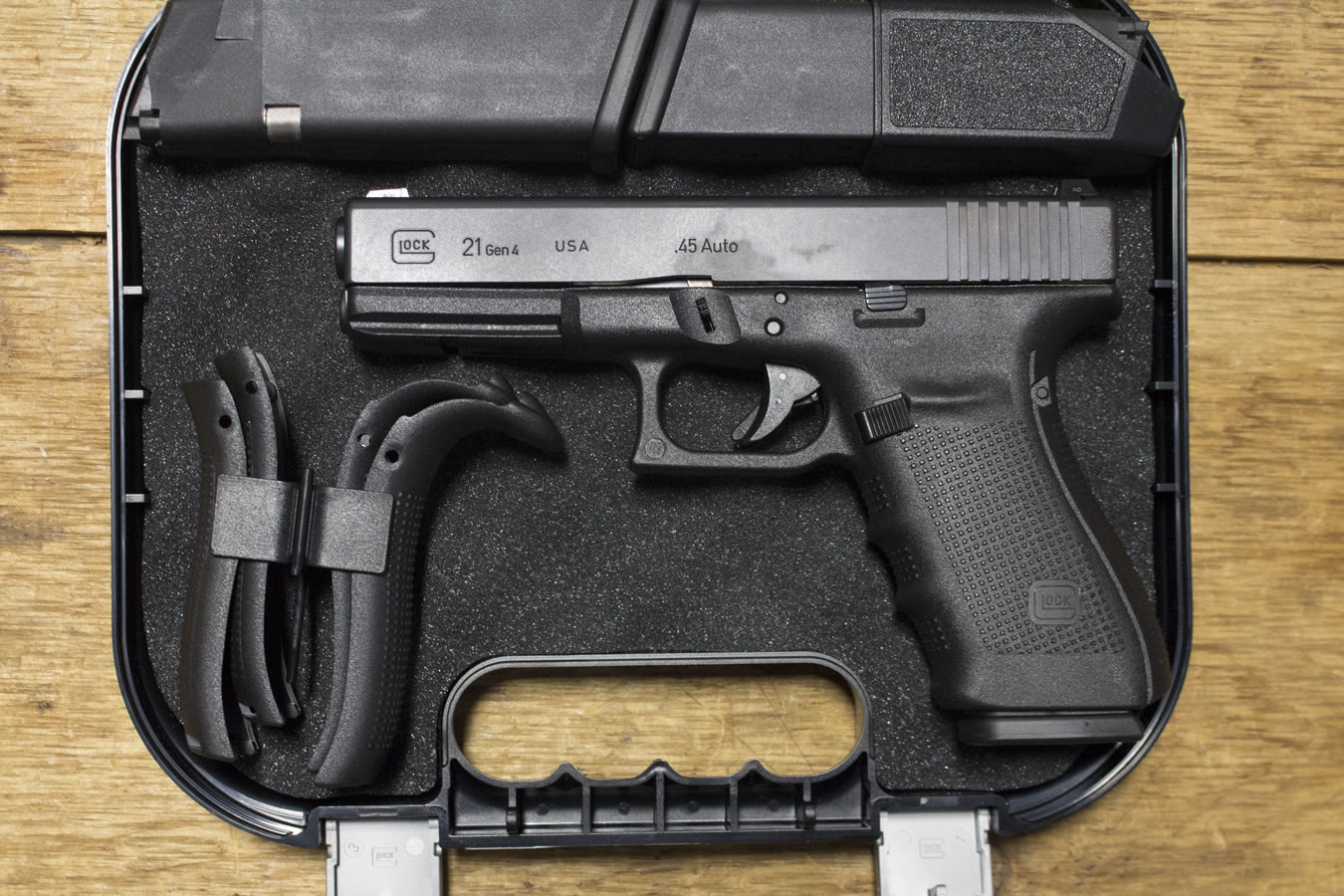 In order to present precise assessments of Glock 21 Gen 4, it's necessary to talk about the characteristics of the gun. 
Caliber: .45 Auto

Magazine Capacity: 13 Rounds  

System: Safe Action 

Dimensions: 8.07 x 1.34 x 5.51 Inches (L x W x H)

Weight: 26.28 Ounces (Without Magazine) 38.80 Ounces (With Loaded Magazine)
At first glance, it seems that Glock 21 Gen 4 is quite similar to Glock 21 of Generation 3 in terms of overall profile. But upon close inspection, shooters should be able to notice several differences here and there.   
Grip

: The standard grip of Glock 21 Gen 3 is somewhat bulky so you need to have medium-sized hands to put the gun to good use. On the other hand, Generation 4 Glock 21 features a modular backstrap that lets you change the size of the grip to match your personal shooting preferences.

Magazine Release

: Compared to Generation 3 Glock 21, the magazine release of Glock 21 Gen 4 is wider/longer. Moreover, to improve the handling of the gun for left-handed shooters, the magazine release of Generation 4 Glock 21 is reversible. In most cases, it only takes around five minutes to reverse the magazine release using a flathead screwdriver and a pair of needle-nose pliers.  

Texture

: Boasting more aggressive texture than its predecessor, Glock 21 Gen 4 offers top-notch controllability which means it's a breeze to deliver follow-up shots.   

Recoil Spring Assembly

: Instead of reusing the venerable single spring on the guide rod of Glock 21 Gen 3, Generation 4 Glock 21 employs a double captive recoil spring. The new spring cost more to replace but in exchange, it lasts twice as long as the old one and reduces recoil by large margins. 
*On a side note: Upon purchase, Glock 21 Gen 4 would come with three magazines instead of two as with Gen 4 Glocks. 
Reported Issues With Glock 21 Gen 4
These kinds of days, you hear all kinds of things once it comes to Glock 21 Gen 4 problems but the complaints tend to be subjective opinions. Nonetheless, a handful of issues consistently come up from time to time among the Glocks.  
While shooting, one of the last things you want to experience is to have hot, heavy brasses hitting your forehead. The flying brasses not only mess up your concentration but also cause lots of frustration. Many factors would lead to BTF such as ammo choice, shooting grip and so on. In the case of Glock 21 Gen 4, a number of shooters report that they must put up with BTF for some time before it automatically disappears. Others reports they manage to resolve the brass issues by swapping the original Glock ejector with a customized one (Apex).   
Solution: Well, Glock pistols should work as designed out of the box but certain examples might need a break-in period.  So if you run into BTF, it's a good idea to shoot a few hundred rounds more and then see how things turn out. In the case the brass issue persists, you have two options at your disposal: 1/ Swap out the parts (which likely void warranty) and 2/ Send the gun to Glock for maintenance. Each option obviously comes with distinct advantages and disadvantages, hence, think everything through before deciding. 
All in all, Glock 21 Gen 4 functions smoothly in most cases but several shooters feel that their Glocks fail to fire every once in a while. Staff from the customer service of Glock claims that instead of the gun itself, the ammo is what causing FTF. Still, gun owners notice that they could fire the same ammunition in other guns without running into a single failure.  Furthermore, after clearing the rounds from the chamber, many have indention of them which often indicate striker/spring-related issues. 
Solution: Built-ups of foreign materials in the guns might impair the movement of the striker as well as the spring. As a result, if you experience FTF, it's strongly recommended to disassemble your Glock and then assess the components.  Generally speaking, wipe clean everything and take the time to check for anomalies as well. If all seem normal and the issue still lingers, send in your Glock 21 for inspection. 
Verdict: Sometimes, Life Gives You Lemon
Glock 21 Gen 4 is well-known for its high performance but regardless of how good quality control is, some defects might slip through the net undetected. That being said, you don't have to worry too much about Glock 21 Gen 4 problems as they tend to be rather few and far between. If you want a solid pistol that hit hard, Glock 21 Gen 4 is going to be one of the top choices.