Glock Blue Label Vs Red Label: Breakdowns For Firearms Enthusiasts
So you have been planning to buy a Glock for a long time and after conducting thorough researches, something odd comes to your attention: The original cases of several Glocks feature a blue label while others have a red one. From the outside, it seems that if the model is the same, Glocks that arrive in blue label cases have no noticeable deviations compared to those in red label cases.  But Glock must have valid reasons to give different gun cases different color labels, right? Glock Blue Label vs. Red Label, what is the difference?
You want to find out the meaning behind the color labels on Glock gun cases? If that happens to be the case then you have come to the right place. Down below, you would be introduced to pretty much everything that firearms enthusiasts nowadays should keep in mind about Glock Blue Label vs. Red Label.
Understanding Color Labels: Summarized Details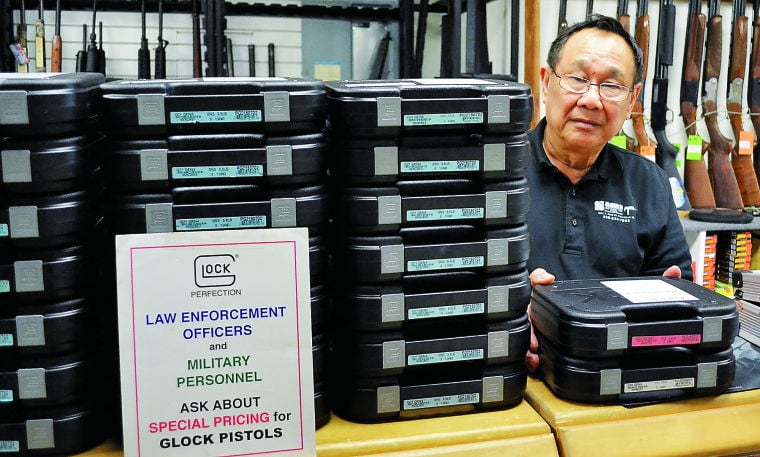 These kinds of days, the original Glock gun cases often feature one of three color labels: blue, red and white.
Blue: Only made available for public safety professionals that have proper credentials. That being said, private citizens could get Blue Label Glocks if they happen to be a member of GSSF (also known as Glock Sport Shooting Foundation).
Red: Standard capacity magazine, civilian wholesale price
White: Standard/restricted capacity magazine, civilian wholesale price
All in all, the color labels only indicate a couple of issues about the nature of the guns as well as characteristics of the magazines. The performance of the guns remains practically consistent regardless of the color labels on the cases.
Most Defining Characteristics Of The Blue Label Program Of Glock:
While everyone should be able to buy White and Red Label Glocks without much difficulty, only people that match certain criteria could buy Blue Glocks. Made to "support those who protect and serve communities across the U.S. and around the world',' Glock Blue Label program offers professionals in public safety roles discounted Glock products. In order to get Blue Label Glocks, you must be:
Current law enforcement officers
Retired law enforcement officers (with credentials)
Firefighters (career and volunteer), EMTs and paramedics (with credentials)
Active military personnel, reservists and members of the National Guard
Retired military personnel (with credentials)
Current corrections, parole and probation officers (with credentials)
State-licensed security companies and licensed armed security officers
Current court judges, district attorneys, and deputy district attorneys.
Cadets of Law Enforcement Academy (with enrollment documents)
Private citizens could also obtain Blue Label Glocks if they become a member of GSSF. However, while public safety professionals would be eligible to get two Glock products through the Blue Label program in a fiscal year, qualified members of GSSF could only purchase one in the same time period. Depending on the model of the gun, the pricing of Blue Label Glocks should be between $75 and $100 below retail prices. In addition, all Blue Label Glocks come along there magazines.
Frequently Asked Question About Glock Blue Label Vs. Red Label
Could I buy a Blue Label Glock without having to be a public safety individual? 
As mentioned above, only people that match criteria set out by Glock have the right to purchase Blue Label guns. Therefore, unless you join the GSSF, you have to settle for White/Red Label Glocks. That being said, it's worth noting that used guns don't fall under such a restriction which means ordinary people should be able to buy used Blue Label Glocks. So in the case you happen to know public safety professionals with Blue Label Glocks to sell, feel free to purchase the guns from them.
Is it possible to get more Blue Label guns from Glock than the annual limit? 
Bases on regulation, in a single fiscal year, Glock only allow public safety professionals to get two Blue Label Glocks and GSSFs could get one. Hence, if you have the privilege to buy Blue Label Glocks but you already reach the annual limit then you must buy at commercial prices if you want more guns. For your information, Firearms enthusiasts would be able to buy as many commercial models from Glock as they see fit.
So every model from Glock is going to be available in the Blue Label program? 
Well, yes, in most cases. In certain places, a few Glock models exclusively come as guns for commercial consumers including Glock 24, Glock 17, Anniversary Commemorative Edition of Glock 17 and so on.
How long do people have to wait to get their Blue Label Glocks on average? 
The time it takes to get Blue Label Glocks varies greatly from case to case. For example, if you have all the proper credentials and there is an authorized Glock dealer in your neighborhood, you could get your Blue Label Glocks in just a day. On the other hand, if you send in your credential as well as payment details to dealers far away, it often takes a couple of weeks to process the order. If you want to buy guns directly from Glock then the waiting time might be as long as six months.
Is it true that that Blue Label Glocks come with a magazine more than Red Label Glocks in most cases? 
Before the introduction of Gen4 models, Red Label Glocks come with 2 magazines while Blue Label Glocks have 3 magazines on arrival. Nowadays, regardless of color labels on them, every Gen4 Glocks should be accompanied by 3 magazines. One exception to the rule is the Glock Subcompact as it only provides 2 magazines across all calibers to the users. Of course, if you buy used Glocks, the number of magazines is going to deviate.
Locating Authorized Dealers Of Blue Label Glocks Near Your Place
So after getting a firms grasp on Glock Blue Label vs. Red Label, you decide to get yourself a Blue Label Glock? If that is so, all you have to do is to pay a visit to the website of Glock, enter your location and hit the Blue Label Dealers indicator. If there is an authorized dealer of Blue Label Glocks around your place, you should see it right away.