Vortex Venom Vs. Trijicon RMR: Which One Should You Get
Nowadays, people have a lot of choices in term of red dot sights for pistols but if it comes to all-around performance, two models stand out from the rest: Vortex Venom and Trijicon RMR.  Being rugged, compact and light these models earn numerous praises from shooters as well as firearms experts around the globe. Considering the popularity of the sights, it's only natural that the subject of Vortex Venom vs. Trijicon RMR attracts considerable attention from gun lovers that want to get a solid sight for their handguns.
So you like both Vortex Venom and Trijicon RMR but you could only get one? If that is the case, this article is for you. Down below, you would be provided with everything that you must keep in mind about the Venom and the RMR. Once you know what to expect of the sights then it's a breeze to determine which one to get.
Basic Characteristics Of The Sights
Before we go deep into Vortex Venom vs. Trijicon RMR, it's a good idea to go over the traits of these red dot sights. Overall, the more you know about the Venom and the RMR, the higher your chance of grabbing the right sight.
Vortex Venom
Length: 1.9 Inches
Weight: 1.05 Ounces
Magnification: 1x
Eye Relief: Unlimited
Battery: CR1632
Trijicon RMR
Length: 1.7 Inches
Weight: 1.2 Ounces
Magnification: 1x
Eye Relief: Unlimited
Battery: CR2032
Comprehensive Comparison Of The Sights
Vortex Venom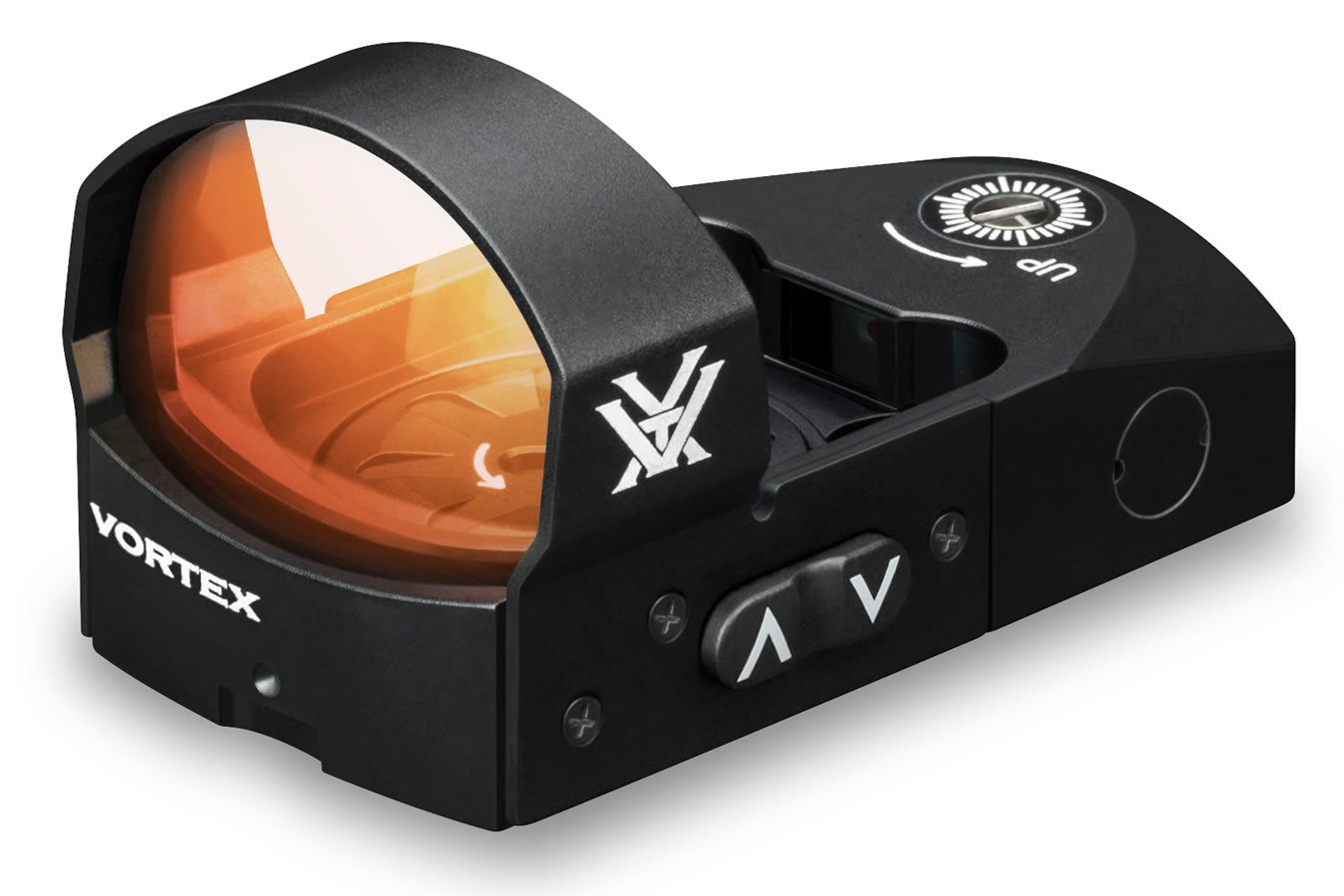 Advantages 
Well Designed Glasses And Coatings 
Using top class glasses as well as anti-reflective coatings across glass surfaces, Vortex makes sure that the Venom delivers crisp, parallax-free sight picture. Because of that, the sight performs admirably in virtually every lighting condition, indoor and outdoor. In addition, the presence of the renowned ArmorTek coating means that the sight is able to resist scratch quite well. Last but not least, a combination of minimal protective housing and wide viewing window mean your field of view through the glass is practically unobstructed.
A Lot Of Brightness Settings
Vortex Venom offer users up to 10 choices of brightness which make it ideal for a wide range of shooting purposes: defensive, competitive, recreational and more. Bedside selecting the brightness setting manually, you could also leave the sight on automatic mode. Once the automatic mode is engaged, the Venom would adjust the brightness of the dot base on the ambient light it detects in the surrounding. As a result, the dot is going to remain crisp as the light condition changes.
The battery life of Vortex Venom is dictated by the brightness setting in most cases. If you set the brightness at the highest setting then the battery is going to die after 150 hours (around 6 days). On the other hand, if you opt to keep the brightness at the lowest setting then the battery could last up to 30,000 hours (approximately 3.5 years). All in all, the battery life of the Venom is superior to the average sights for pistols on the market. To optimize battery life, the sight also incorporates an auto-shutdown function to save power.
Disadvantages
 The Battery Cover Is Unforgiving 
Users of Vortex Venom complain that it's a nightmare to change the sight's battery as the battery cover is extremely difficult to handle. In many cases, people have to remove the gasket that is designed to hold the battery in place just to screw in the battery cover.
Some User Receive Used Sights 
Several shooters notice considerable wears on their Venoms on arrive which indicate that these sights have already seen extensive use. While some have no trouble using used sights as long as they work, others prefer to have brand new products.
Trijicon RMR
Advantages 
Thick, Premium-Grade Protective Housing 
To ensure that the RMR could hold itself together after being subjected to hefty recoils day after day, Trijicon gives it a rugged protective housing. As the housing could direct impact force away from the lens, the lifespan of the sight tends to increase substantially.
Support Manual/Automatic Brightness Selection 
Trijicon RMR offers customers 8 brightness settings which seem slightly less than that of Vortex Venom but in exchange, the Trijicon sight possesses 2 night vision settings. That means if you wish to get a red dot sight that is NVD-compatible, Trijicon RMR definitely prove to be superior to Vortex Venom. After 16.5 hours of constant operation, the RMR is going to switch to automatic brightness mode. Once that mode is one, it also engages the button lockout to prevent the setting from being changed by mistake.
At 50% brightness, Trijicon RMR could last up to 4 years which essentially make it the best red dot sight for pistols in terms of lifespan nowadays. Shooters would have a rather hard time finding another sight that could outlast the RMR.
Disadvantages
The Acquisition Cost Is High 
Trijicon RMR s built for people that want the best performance regardless of the cost so it's only natural that the sight is expensive. In fact, the price of RMR is comparable to that of a good handgun these kinds of days so it's obviously a considerable investment. If you have a fairly limited shopping budget then you should skip over Trijicon RMR.
Somewhat Obstructed Field Of View 
While the protective housing of Trijicon RMR indeed excels at its task, it also happens to be a bit bulky. Because of that, the sight tends to present certain obstructions to your field of view for most of the time.
Verdict: It's Up To You To Decide
All things considered, it's quite tough to say which sight is superior while talking about Vortex Venom vs. Trijicon RMR. These particular red dot sights all have something that individual shooters appreciate so in the end, it's up to you to make the call.
If you want a straightforward, no-nonsense sight that comes at an affordable price, Vortex Venom is what you need. On the other hand, if performance is your topmost concern and have money to spend then consider getting Trijicon RMR.